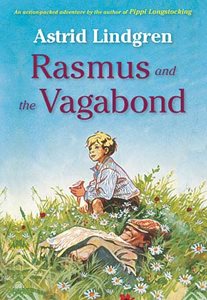 I don't remember much about the Pippi Longstocking books, but I do remember loving them and finding them very funny. When I received an email about a new book by the same author up for a review, I was excited to request it!
However.... The deadline crept up on me real quick-like. My kids had only just started it, and I had to quickly skim through it in order to get the review done in time. I hate that too, because this book deserves better than that. Even in my quick skim-through I found myself drawn into this delightful story. Rasmus and the Vagabond, originally printed in 1956, is absolutely charming and reads as fresh as if it had been written yesterday. The orphan Rasmus' search for a family and a home is sweet, humorous, and filled with adventure. It will appeal to children of all ages! I look forward to slowing down and reading the rest of this book with my kiddos.
More about the book:
About the book:
Softcover / 180 pages
After running away from an orphanage, nine-year-old Rasmus finds the world a cold and unfriendly place until he befriends an extraordinary tramp called Paradise Oscar. Together they meet more adventure than they ever imagined, solve a mystery, and catch the culprits. Reassume dreams of finding a family and a home someday. But when he does, will he be able to part with his new friend and life on the road?
About the author:
Astrid Lindgren, the creator of Pippi Longstocking, Emil, and dozens of other world-famous characters, has thrilled three generations of children with her storytelling. She is the only children's author with a literary prize, a theme park, a museum, a satellite, and a minor planet named in her honor. (After this last honor, she suggested changing her name to "Asteroid Lindgren.") A jury appointed by Swedish Radio's Culture Department to elect the "Author of the Millennium" voted Astrid Lindgren second after William Shakespeare. She was awarded the Hans Christian Andersen Medal and heaps of other awards and honors.
One of you will win a copy of
Rasmus and the Vagabond!
To enter, simply leave a comment on this blog post or on my Facebook page letting me know that you wish to be entered. If you share this giveaway via social media, leave another comment letting me know and I'll give you an extra entry. Giveaway ends Wednesday, February 18.
"Disclosure (in accordance with the FTC's 16 CFR, Part 255: "Guides Concerning the Use of Endorsements and Testimonials in Advertising"): Many thanks to Propeller Consulting, LLC for providing this prize for the giveaway. Choice of winners and opinions are 100% my own and NOT influenced by monetary compensation. I did receive a sample of the product in exchange for this review and post.
Only one entrant per mailing address, per giveaway. If you have won a prize from our sponsor Propeller / FlyBy Promotions in the last 30 days, you are not eligible to win. Or if you have won the same prize on another blog, you are not eligible to win it again. Winner is subject to eligibility verification."